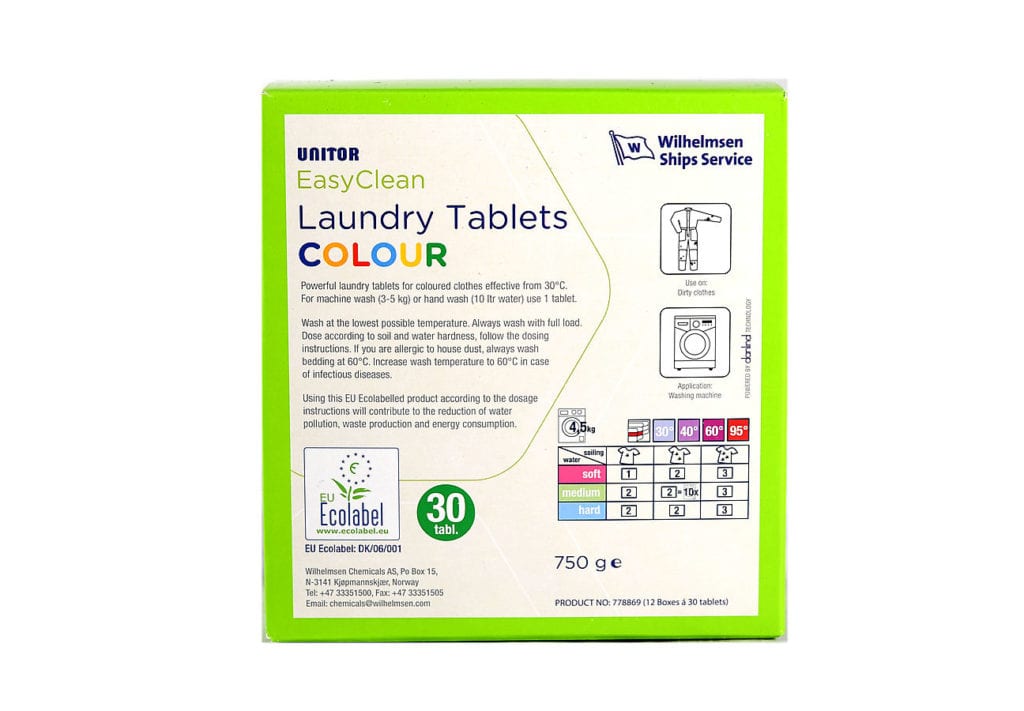 PRODUKT INFORMASJON:
Produktnummer: 778869
Antall: 12 pcs
Unitor™ EASYCLEAN™ LAUNDRY TABLETS are easy to dose laundry tablets without bleaching agent. The tablets are designed for coloured clothes at all wash programs from 30°C up to 90°C.
The individual tablet is wrapped in a Polyvinyl Alcohol (PVA) film, that is a water soluble biodegradable polymer film. The film will dissolve quickly in water and should not be removed before use. The purpose of the film is to prevent the tablets from absorbing humidity, to avoid formation of particles/powder during transport or handling and to avoid the tablets to stick together in the box.
If the Unitor™ EASYCLEAN LAUNDRY TABLET should be used for manual hand cleaning, dissolve 1 tablet in 10 liter of water. It is not recommended to use more tablets than needed, as it might be difficult to rinse out all the detergent. This can again lead to rash or skin irritations.
By overfilling the laundry machine with clothes the tablet will not dissolve as intended and rinsing off detergent residues will be less efficient.
Features
Easy to dose
Suitable for all wash temperatures
Disintegrates quickly
EU Ecolabel
Benefits
Reduced waste
Removes tough everyday stains
Specification
Physical properties
| | |
| --- | --- |
| Appearance | White |
| Form | Tablet |
| Odour | Odourless |
| Packaging | 12 x 30 tablets |
Approvals
Unitor™ EASYCLEAN™ LAUNDRY TABLETS COLOUR is equipped with the EU Ecolabel.
The composition of the product is approved by this organization, known as «The official European label for Greener Products». The requirements are based on very strict regulations and it is a reliable guide to easily identify high environmentally performing products.