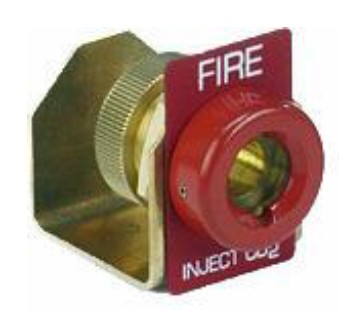 PRODUKT INFORMASJON:
CO2 Inlet Socket / Socket Assembly For CO2 Inlet
Product number: 47/90396
Nato stock number: 99-5293637
NSN: 4210-99-529-3637
Features
Rugged and corrosion resistant for marine use and commercial applications.
Safe and easy to use.
Used with standard 2kg CO2 extinguisher.
General Description
The co2 inlet socket used in conjunction with the standard 2kg portable extinguisher and discharge plug the CO2 inlet socket provides a safe and efficient method of extinguishing a fire in a cabinet.
The inlet socket is permanently fitted to the cabinet. In the event of fire the discharge plug is inserted and twisted into the socket and the extinguisher operated.
The extinguisher/plug can be used to fight open fires when attached to the hand applicator.
Please note this unit is not IP rated!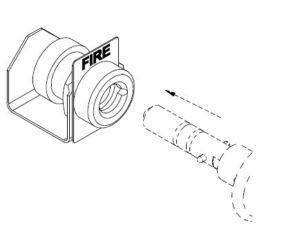 We strongly recommend ordering the discharge hose and plug that fit and lock into the co2 inlet socket.

Leadtime
We normally have this in stock.
RELATED PRODUCTS
Discharge Hose and Plug | Hose Handle Injector
Part number: 47/90289
NATO stock number: 99-1299739
Hand Applicator – Applicator Hand Assembly
Part number: 47/90266
NATO stock number: 99-1279736
Almn Burst Disc for CO2 Inlet
Part number_ 47/50569
Nato Stock number: 99-1299742
For more information and stock contact us on e-mail jt@asupply.no 
What does NATO stock number mean? Read more here