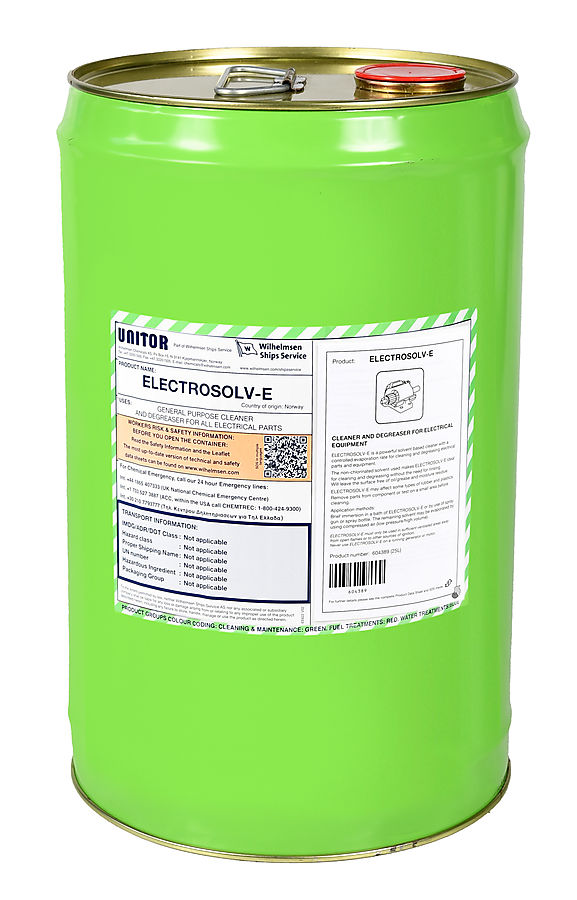 PRODUKT INFORMASJON:
Produktnummer: 604389
Liter: 25 LTR
Unitor™ Electrosolv-E™ is a non-chlorinated solvent with a controlled evaporation rate for cleaning and degreasing electrical equipment.
Product information
Features
Contains no chlorinated solvents
Powerful solvent with controlled evaporation
Rapid penetration and action
Harmless to electrical insulation- tested for breakthrough voltage after DIN-57370 to 209 KV/cm
Benefits
Efficient cleaning with no grease film or moisture residue
Non-corrosive – can be used on all normal components with no risk of corrosive damage
Cleans and degreases electrical parts and equipment without the need for rinsing
Specification
Physical properties
| | |
| --- | --- |
| Appearance | Clear and colourless |
| Density [g/ml] | 0,8 |
| Flash Point [°C] | Above 61 |
| Form | Liquid |
Technical data
| | |
| --- | --- |
| Not Compatible | May swell rubber. |
Performance data
Caution. Never use Electrosolv-E on a running generator or motor. Electrosolv-E can be used to clean virtually all electrical equipment and components although it may affect some types of rubber and plastic. Either remove rubber and plastic parts from component or test on small area for any reaction before cleaning.
After cleaning motors or generators insulation resistance to ground should be tested to check that it is within its specified limits. Sprayers: a range of spray equipment is available for use with Electrosolv-E and other solvents.
Directions for use
Unitor™ Electrosolv-E™ must only be used in sufficient ventilated areas. Unitor™ Electrosolv-E™ should always be used undiluted. It can be applied by brush, swab or as a fine spray using suitable hand held spray equipment.
NOTE! Never open flame when using fine spray.
Small components be cleaned y brief immersion in a bath of Unitor™ Electrosolv-E™. The most suitable way of applying Unitor™ Electrosolv-E™ is by using hand spray or syphon spray gun. Once the deposits of dirt and grease have been flushed away with Unitor™ Electrosolv-E™ the remaining solvent may be evaporated by using clean compressed air at low pressure and high volume.
Dilution:
Concentrated use only