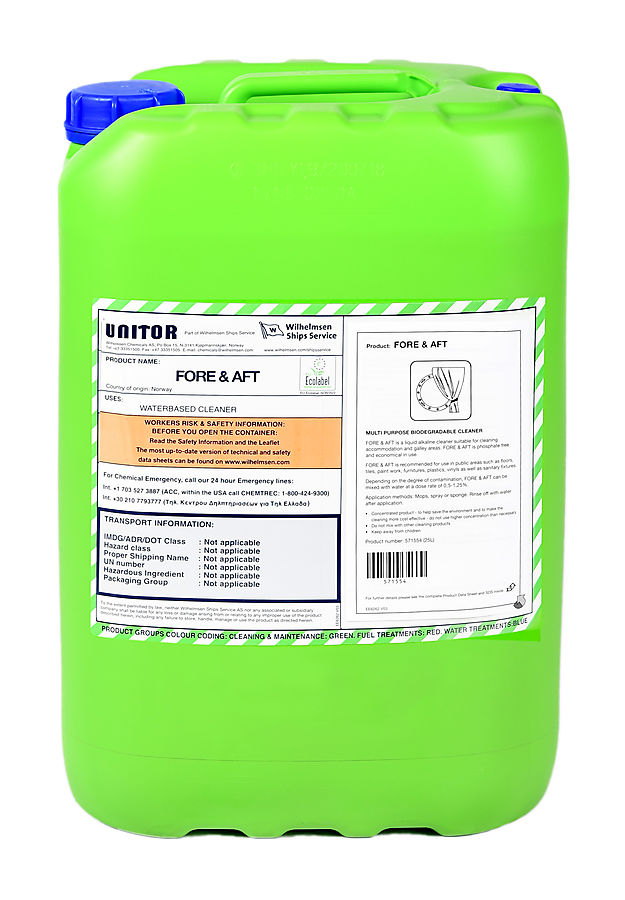 PRODUKT INFORMASJON:
Produktnummer: 571554
Liter: 25 LTR
Unitor™ Fore & Aft™ is a multipurpose water based biodegradable cleaner containing surfactants and alkaline materials. 

Unitor™ Fore & Aft™ carries the EU Ecolabel and is non-caustic. The product is very economical in use and is ideal for general cleaning on deck and superstructures.
Features
Biodegradable cleaner
Does not contain nonyl phenol ethoxylates or other
estrogenic compounds
Non-caustic
Non-flammable
Acceptable for use in the food storage areas
Suitable for cleaning of sanitary fixtures i.e. showers, toilets etc
Can be used on windows and port holes
Phosphate free
Specification
Physical properties
| | |
| --- | --- |
| Appearance | Blue |
| Density [g/ml] | 1,1 |
| Form | Liquid |
| pH | 12 |
Technical data
| | |
| --- | --- |
| Not Compatible | The concentrated product may react with aluminium, zinc, tin and their alloys. |
Directions for use
Dosing method
Depending on the applications, Unitor™ Fore & Aft™ can be diluted with water in concentrations from 0,15 to 1,25%.
For cleaning in public areas, such as floors, tiles, walls, paint work etc., it can be used in concentrations between 0,15 to 1,25% and applied by mops, spray or sponge and rinsed off with water after the cleaning.
For objects such as furnitures, plastics, vinyls etc., a concentration between 0,15 to 0,75% is recommended. Rinse off with water after the cleaning.